Danielle Bregoli.
Does this name ring a bell? Maybe not, but you may have seen this video below.
Danielle Bregoli or the 'Cash me outside girl' rose to global fame at the age of 13 after her appearance on Dr. Phil went viral. She quickly turned into an overnight sensation after her video spread like wild fire on the internet. In as little of 4 months her personal Instagram account @bhadbhabie now has over 9.6 million followers and has been verified. With her large following comes her thousands of loyal fans. Danielle is able to average hundreds of thousands of likes on each photo she posts and a million views on her videos.
Just watch as now a disobedient 13 year old is now somewhat of a celebrity with fans following her every move.
Danielle has definitely cashed in on her new found fame and has found a way to stay revenant months after she went viral. TMZ stops her for interviews, paparazzi follower her around and fans flock to wherever she is and just because of a viral video.
The Sun reports that Danielle is being paid five figure sums for meet and greets however her biggest money earner is her Instagram account. With her 9.6 million followers, Danielle is able to post sponsored content for brands such as Fit Tea and Fashion Nova.
Brands are now turning to your favourite stars and influencers for advertising. For a single post on Instagram Danielle can be paid around $70,000!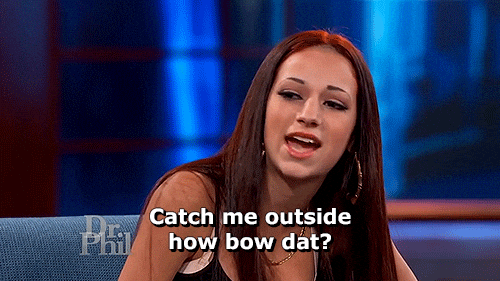 Sponsored content on Instagram can be an effective form of advertising as the brand can have a direct avenue to a target market. An example of a sponsored post is when an influencer on Instagram is shown using the product along with a direct link in the 'bio' and a tag in the post's description. Within a few clicks a follower can be on the brands Instagram page and a few clicks away from purchasing the product for themselves.
Look at the video above where @bhadbhabie shares a clip promoting Fit Tea. It got over 11.6 million views! The prices these brands pay for sponsored content are completely justified in my opinion because of the impressions they earn for the sponsors.
More and more people are turning away from T.V. and are installing Adblock on modern browsers, so sometimes the only way to target a customer is through sponsored content. It must be effective if influencers are getting paid thousands of dollars for a single post.  Brands will continue to sponsor Danielle if the views and likes are still coming, but how long will it last? Only time will tell.
Do you see a lot of sponsored posts on Instagram? Does it annoy you?